The first stop of 2019 ACCR held the grand race in Sepang, Malaysia.
Prove yourself with strength. aRacer becomes the designation ECU manufacturer of ARRC event.
The first stop of 2019 ACCR held the grand race in Sepang, Malaysia.
Asia's highest level motorcycle road championship, Asia Road Racing Championship (ARRC),
recently give impetus to the ECU unified standardization of AP250 class.
The Taiwanese manufacturer aRacer beats the competitors to stand out
and becomes the ECU unified specification manufacturer for the AP250 class.
In the fierce competition, aRacer from Taiwan stood out to become the designated ECU of the AP250 class.
The participating racing teams are receiving aRacer's ECU.
To reduce the cost of participating a race for motorcycle manufacturers and to improve
fairness have gradually become the trend of major events. At this moment, MotoGP and
Moto3, the highest level events of motorcycle races, both stipulate the ECU specifications
of participating vehicles. As part of the FIM, the ARRC AP250 Class has also followed up
and adopted a uniform specification ECU from this year's event. After several rounds of
review and testing, the Taiwanese manufacturer aRacer was selected. In fact, in the past
few years, aRacer ECU has often been the designated ECU manufacturer of the unified
specification races. Big Japanese motorcycle manufacturers, including HONDA, YAMAHA,
KAWASAKI, SUZUKI, etc., all adopt aRacer's ECU in the unified specification races.
Before becoming the unified specification manufacturer, aRacer's ECU has been widely
used by racing motorcycles of various automakers.
The aRacer team is collecting the racing data.
In addition to the AP250 class which will fully adopt aRacer's specially costumed Spec ECU,
other levels of the competition, such as the UB150, have many teams using aRacer's ECU.
Of the participators in the first stop of 2019 ARRC , 35 motorcycles are equipped
with aRacer's ECU. The high penetration across different car models and classes also
demonstrates the high level of adjustability and expandability of the aRacer ECU.
This not only approves the technical strength of aRacer, but also makes Taiwanese
manufacturers famous in the world.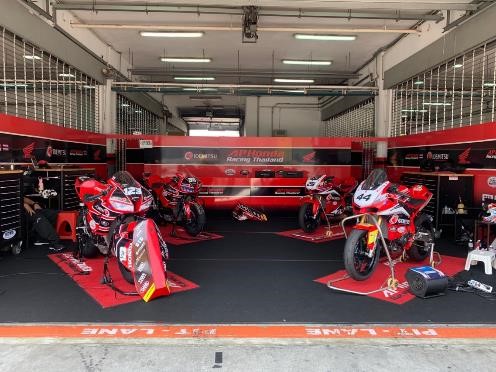 AP250 HONDA racing motorcycle equipped with aRacer ECU.
A racing motorcycle equipped with the aRacer kit.
Because of the designated use from AP250,
aRacer is more diversified in the development of ECU,
especially for the 250 cc class of motorcycles from the big four Japanese automakers.
In the future, aRacer will also span more classes of the race to increase the brilliance of
the competitions. We believe that we can expect aRacer to continue to evolve
in technology and quality, and help the racing team to maximize the performance of the motorcycle.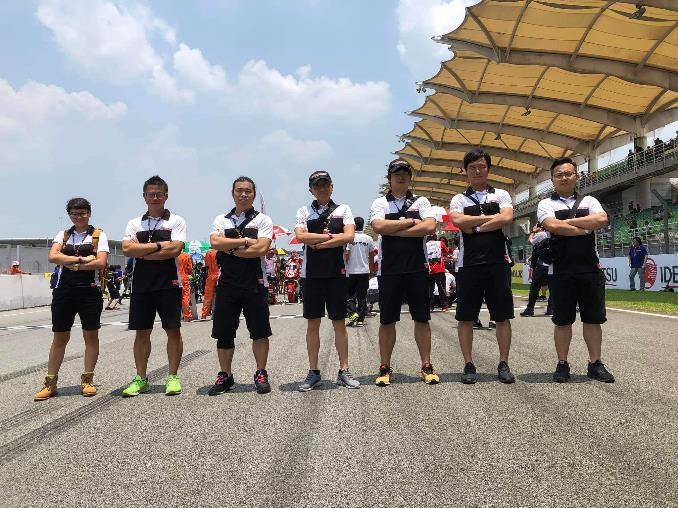 With the powerful technic of aRacer team, we believe that the ARRC race will be expected more brilliant and excellent.
The photo above is the support team of aRacer