From 2018 to 2021, the TEC2 team has won the annual championship of the Japanese JP250 category for many years. It is a well-known team in Japan, and it is also the cradle of many MotoGP drivers, whether it is the MotoGP125cc senior Masao Toba, the current MOTO3 driver Toba Kaito and the MotoE driver Okubo. Guang, all used to be the drivers supported by the Tec2 team. The TEC2 team began to use aRacer RCSuper2 ECU and peripheral electronic control system in 2018 to help players and technicians understand the riding and engine settings of the vehicle. It is their most trusted part and helped them win the JP250 championship for many years.
MOTOGP125cc senior Masao Toba, current MOTO3 driver Toba Kaito and MotoE driver Okubo Hikari were all drivers supported by the Tec2 team.
Racing is the world of young people?
The team also joined the ARRC AP250 wild truck team this time. Its team leader is Mr. Fujiwara Kenji, who plays a pivotal role in the Japanese racing circle. Since AP250 is a standard ECU, the TEC2 & YSS Japanese local wild truck team also needs to fully install aRacer SPEC X ECU, but this pair of original cars has already been equipped with RC Super X, TEC2 team from 2018 RCSuper2, RCSuperX to ARRC SPEC X ECU, is a very similar and more convenient tuning interface. Of course, tuning and racing settings are easy and free.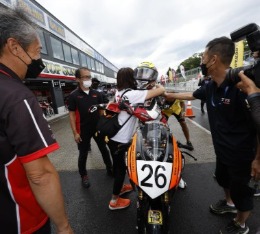 Race1 had a light rain before the start. TEC2 was one of the few teams that put on wet tires first. This was a wise choice. Not long after the start, it started to rain heavily. It was replaced. Because of factors such as Sugo's terrain and climbing and descending, the other drivers suffered a lot, and almost half of the players fell in the whole rainy battle. And the TEC2 team successfully won the Race1 victory at the right time and place! Driver Takahide Tanaka, in his early 50s, finished the race with Japan's spirit